AIR FORCE WORKS TO PUNISH VICTIM OF SEXUAL HARASSMENT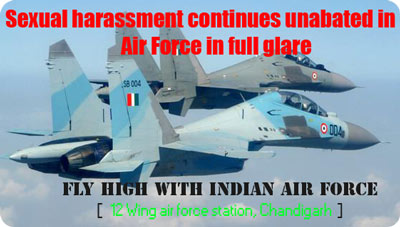 "Touching the Sky With Glory" is from Indian Air Force's motto.
The first ever all-women skydivers' team flagged off the ceremony at the Air Force Station in Hindon on 8th October, 2011 ( read more.)
This all is a publicity stunt of Indian Air Force. If you peek into Indian Air Force, you'll only find corrupt and greedy Babus who control this defence unit from top to bottom. If one of those sexually harasses an inferior sex, we see that full system works on to punish the sincere woman who tries her best to maintain her self respect and whole bureaucracy is mere either mute spectator or works on to punish the victim.
Justice to the victim! Far from it - the accused has his way out openly.
This lady has written letter to all ( Sonia Gandhi, President etc) and even the Women Cell. But do we know - anybody who lives on the comfort of public money is a bureaucrat for sure. No response from them.
We've come across a new sexual harassment case in Indian Air Force office in Chandiarh. As per the narration of the victim - she is a married woman with a child and her husband is usually away on tour. In the defence units one is expected to "silently obey". Her superior sensing her situation (by the way, in India women are born helpless), allegedly touched her hands and passed lewd comments on her. When she protested, she is continuously rewarded with non-stop punishment from her office when all remain mere spectators watching this helpless women.
Sexual harassment is one of hardest abuse for any girl or woman in India which has been stereotyped by our male chauvinism Indian society. It applies in the work place too. Her fighting for justice is a fight for a woman's self respect, which is not lowered even an inch if she were to have 3 boy friends.
We slowly dig deep into this matter. This case is prima facie case of sexual harassment and Indian Air Force has thrown to the winds, the Supreme Court's Vishaka guidelines:
No neutral member in the sexual harassment committee( as usual the committee consists of bureaucratic Chamchas(corrupt) set of "obedient" Babus.
No punishment to the alleged culprit, as per victim's narration he remains unfazed and continues to threaten and harass her
The senior bureaucrats hardly bother the adversity this lady is facing.( Guess what'd be their reaction if their own mother or sisters were there, instead)
Closed career lies ahead for this lady for raising her "voice" against "System"
The alleged culprit files a defamation case against her(imaging the world when rapists start filing defamation cases initially to deter the victims!)
Accused Details
Shirish Sharma(alleged culprit), Garrison Engineer(AF)
Komalpreet Kaur(victim) working as steno to Shirish Sharma
Our demands at the outset
Dismissal of the alleged culprit(if found guilty), strict action against the accomplices and those superiors who have been watching all these without taking appropriate action.
Suitable reward for the victim( this is most important)
Please pen your feelings and what we should do to help this lady.